Advanced Pricing Methods®
Advanced Pricing Methods® (APM®) are practical and highly effective techniques for CPAs and consultants to price their projects before they perform the work. Certainty in price and clarity in scope improve the customer experience and the firm's ability to exceed expectations with no billing surprises.
Advanced Pricing Methods® leverage multiple revenue models including:
fixed price
multiple fixed prices (tiered options)
subscription pricing
unit-based prices
pay-per-use pricing
worth-based pricing (sometimes called value pricing or value billing)
variable or phased pricing
With APM®, sellers explore desired outcomes with buyers before proposing solutions. Once both buyer and seller have a strong sense of WHY the work is going to be done, and the IMPACT the work will have, they can explore the worth and establish an understanding of at least an acceptable range. This happens through a richer discovery & sales process than CPAs typically use today.
Once you craft your offerings using the collaborative APM® approach, you'll present them in a more customer-centric way. This means you focus on "what they get" (end goals) not "what you do" (tasks). It also means you tether your price tag to their outcomes and results rather than to your task list or estimated time expenditure.
With APM®, buyers purchase with confidence knowing they'll have certainty in price for an agreed result and clearer scope of work. This comforting knowledge and the discovery process itself strengthens your relationship and deepens their trust in you. Also, you and your team feel good knowing the parameters of your involvement and that you've established clarity about what is NOT included.
Benefits of using Advanced Pricing Methods® fall into categories of:
better customer experience (CX),
collaboration to reduce silos and propose more than compliance,
improves margins through better scoping & project management framework,
increased confidence in the firm's (seller's) worth,
developing pricing skills, and formalizing pricing processes.
Click here or to zoom image for a more complete summary of how firms get better through using Advanced Pricing Methods®.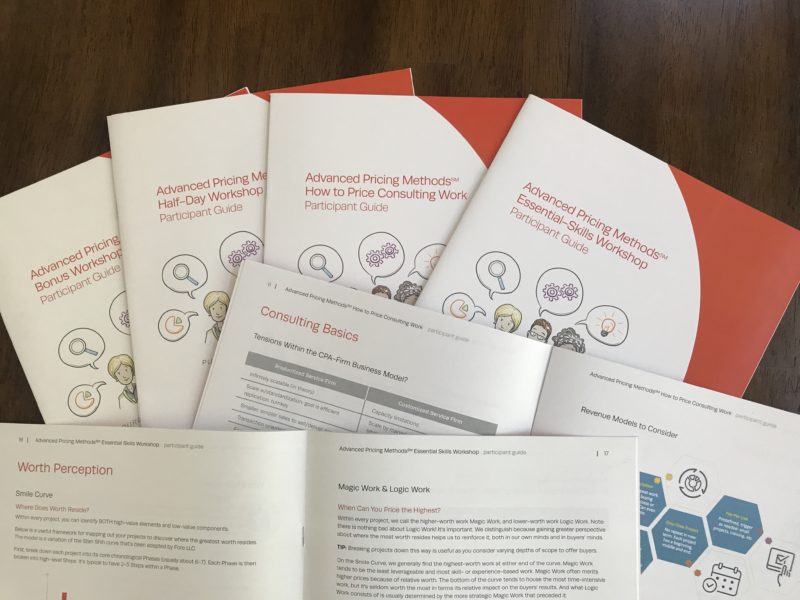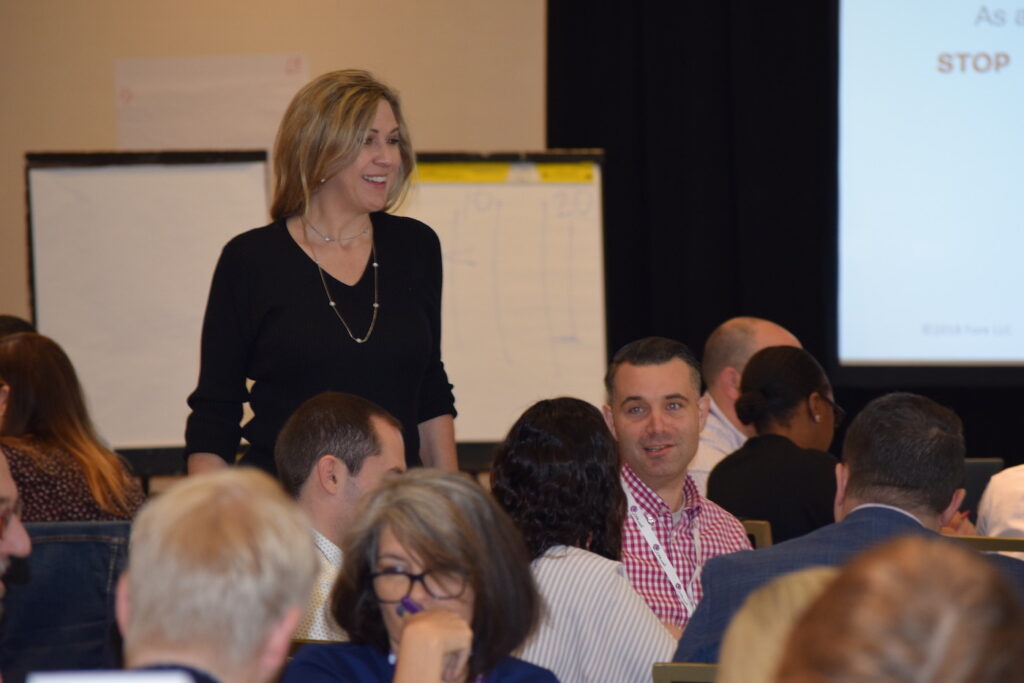 How Do Firms Get Started?
Preparation
Some firms institutionalize Advanced Pricing Methods®, and others pilot with two or more industry groups. No two firms seem to approach this change initiative exactly the same way which makes sense because each firms is unique!
For the best results with APM® adoption—whether they run a pilot program or full-fledged implementation—firms begin with some initial consultations. Through these consults, they set themselves up for success by building buy-in within leadership, exploring alternative roll-out approaches, and establishing expectations about results and timelines.
Education
Learning starts with the Advanced Pricing Methods® Essential Skills Workshop that covers foundational concepts including Pricing Models and Definitions, Worth-Mindset, Scope Basics, and Option-Pricing Basics. Participants apply APM® techniques hands on in breakout groups to experience the difference APM® makes. There is no pre-work necessary for this workshop.
Fore's Advanced Pricing Methods® Essential Skills Workshop covers:
How to ascertain the most valuable parts of what you do
Why it's advantageous to put your customers in control of their purchases
Ways to identify scope risks and head them off at the pass (leading to better project definition for better project management)
How and why to offer multiple price options instead of a single price
How to use your options as a scope-management tool
How to anticipate and easily capture extra revenue for the additional work that arises
For highly customized work like consulting, the follow-on Advanced Pricing Methods® How to Price Complex Projects course teaches approaches to plan and scope engagements that have unknown variables. It's entirely possible to establish and manage price expectations for such projects—it just takes a new set of skills and tools. This course is only offered to people who've attended the APM Essential Skills Workshop.
At this time, most instruction is private when Fore is hired to teach within a firm. Occasionally, public workshops are available. Contact us to find out about any upcoming workshops.
Momentum
Once your team learns "how" to price upfront using APM®, there are several ways your firm can maintain the high enthusiasm your participants have when they complete the APM® Workshops.
Group and 1-on-1 coaching for your initiative leaders or folks we call Pricing Mentors
Consultations to help your service teams build out various option "tiers"
On-going APM User Group support 
Consultations around operational considerations to support the initiative as adoption increases
KPI consulting if updating performance metrics & measures becomes important 
This looks "different" for each firm and we are happy to talk about some current approaches or new ideas that meet your needs.
Is your firm ready to harness the power of Advanced Pricing Methods®?