Professionally Speaking
Inspiring. Authentic. Practical. Relevant.
Have you heard?
Michelle Golden River—a TEDx presenter—speaks for organizations around the world. Her audiences are usually accountants, lawyers, and wealth advisors but they extend to association leaders, professional facilitators, marketing & communications specialists, and CPA firm administrators.
Michelle covers a variety of strategic, leadership, pricing, marketing, and management topics—all in the pursuit of CPA firm health, succession, growth, and profitability.
She is uniquely qualified—and in high demand—to teach up-front pricing techniques. This is exiciting new territory for CPA firms, especially large firms who've never had a resource seasoned in the practical application of insitutionalizing advanced pricing techniques.
Scroll down to see her hottest topics.
Contact Michelle to book her for your next event or private function.
See Michelle's Speaker Rider to ensure a great program.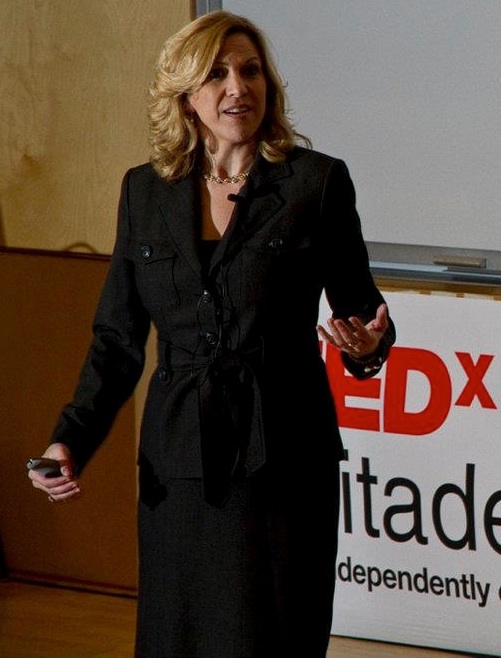 "Michelle spoke at our Headwaters conference and her session was a real eye opener. Her approach to pricing strategies for the accounting profession is the best I've ever seen. It is practical, it makes sense to firms of any size, and it is the path to the future changes facing the accounting profession. Michelle knows her stuff—her thought-provoking, professional approach to presenting the topic makes you feel it is possible to make it happen in your firm!"
"I don't normally do this, but I thought your session was so good and so well-run that I wanted to offer myself as a reference if you ever need one. I haven't seen the written evaluations yet, but the anecdotal evidence was that it was just what the doctor ordered. I can't thank you enough for sending our managing partners out with a bang."
HOT Topics
A sampling of subjects Michelle speaks to.
How Advanced Pricing Methods® Elevates Your Practice
See how up-front pricing using APM® improves firm profitability AND enriches customer trust. Find out how to stop 'giving away' high-value consulting work and more quickly shift your people to a business advisory vs compliance mindset. 
Subscription Model: Modernize Your CPA Firm & Increase its Value
A subscription model business with proven ARR is worth more than traditional firm value of 1x annual fees. But subscription model isn't simply taking today's annual fees divided by 12. Learn how the model applies to CPAs and what the implications are for clients. And see how to secure revenue as your firm adopts work-speeding technologies.
Elevate Your Customer Experience With advanced pricing methods®
CX is a hot topic in leading CPA firms. Whether you have a formal CX program or not, using APM on a regular basis endears you to customers. See the many benefits of putting customers in control of their purchases; how APM deepens trust, elevates conversation and secures customer loyalty.
Build your business-advisory business
Demand for true business advisors grows as perceived value of compliance services decreases. The change in focus requires more than new service offerings, tools & skills. Explore how more effective R&D, different pricing approaches, and a change in culture set the stage.
Transforming the CPA Business Model: Pricing Differently is a Solid First Step
See what many firms are doing right now! Discover how new pricing models are a good driver for setting overall business-model change in motion. Explore what it takes to "price differently" and what pricing differently affects in a firm.
How to Stay Profitable When You Price Up Front
When offering a fixed price, you worry about "what ifs." This model needs enhanced planning or what you might call "anticipation" skills. In the hourly billing world, these skills aren't requisite because we usually just bill overages, and often repeat our mistakes. There's a better way. Learn steps to define and clarify your scope. Bonus: this session also help hourly billers mitigate future write offs!
How to PRice Consulting Work
Fans of pricing up front often still struggle with how to price "consulting" when it's harder to define a given project. They often say "it's impossible." But fear not! Learn some proven techniques to tackle this challenge.
letting go with grace, receiving with respect
With Boomers retiring and the "Great Resignation" at play, we find yet another needed skill set: delegating work and transitioning relationships. Discover how to make transition less painful. Explore transitioners' and transitionees' responsibilities to one another & how to be more successful in client handoffs.
Happy Audiences
Michelle works with many groups that include:
"Your session made everyone sit back and really think about how we should change. In fact, the talk was of little else for the rest of the day. It was the best session that we have ever had at any of our twice-annual worldwide conferences and I thank you for being so challenging and thought provoking." 
Accounting Today Growth & Profitability Summits
AccountingWEB Live
Advanced Marketing Professionals Group
Allinial Global (aka ARAF, Polaris, PKF)
All-Star Financial Group (ASFG)
AGN International
American Bar Assoc (ABA) Law Practice Management
American Institute of CPAs (AICPA) ENGAGE, Practitioner's Symposium, Prac/Tech, PFP, HR Roundtable, Large Firm Exec Roundtable
American Society of Pension Professionals & Actuaries (ASPPA)
Association for Accounting Marketing (AAM)
Association for CPA Financial Planners (ACPAFP)
Avalara Thought Leader Series
BDO & BDO Alliance
BDO Canada
Boomer's CEO Advantage & Transformation Roundtables
CalCPA Education Foundation (faculty)
CCH
CPA.com / Digital CPA
CPAmerica
CPA Associates International (CPAAI)
CPA Firm Management Association (CPAFMA) (formerly AAA)
DFK International
Florida Institute of CPAs (FICPA)
Georgia Society of CPAs (GSCPA)
International Assoc of Business Communicators (IABC)
International Assoc of Facilitators (IAF)
Leading Edge Alliance (LEA)
Legal Marketing Assoc (LMA)
Management Summit
Marketing Directors' Support Group
Massachusetts Society of CPAs (MSCPA)
Minnesota Society of CPAs (MNCPA)
Missouri Society of CPAs (MSCPA)
Moore Stephens North America
National Assoc of Certified Valuation Analysts (NACVA)
National Investor Relations Institute (NIRI)
National Institute of Pension Administrators (NIPA BMC)
Northeast Education Conference
Practice Engine User Conference
PrimeGlobal (aka IGAF Worldwide)
Principa
Professional Services Marketing Assoc (PSMA)
SAGE Summit & Leadership Academy
Southwest Practice Management Group (SWPMG)
TEDx (Halifax)
The International Accounting Group (TIAG) & TAGLaw
The Partner Institute (TPI)
The PRIME Symposium (by IPA)
THRIVEal CPA
Upstream Academy
Utah Assoc of CPAs (UACPA)
VeraSage Institute (faculty)
Winning Is Everything
Xero
Make your group happy, too! Book Michelle to feature her informative, energetic presentation at your next event.